Internet reviews can be baffling to say the least. Sometimes, you go to make a purchase on a certain online retailer, click on the reviews hoping to see the true faults in the product, and find something along the lines of this review instead:
"This product literally saved my entire family from a burning building and paid off my student loans, but I didn't like the color. 1 star." 
Clearly, I'm exaggerating (slightly), but these kinds of reviews pop up all the time. Maybe you even have a few on your website, and you're worried about how they're affecting your SEO. Fear not, Mr. Goldblum and I are here to guide you along the path towards helpful, honest reviews on Google, Facebook, or wherever you might be looking for them.
STEP 1: ASK DIRECTLY
You miss 100% of the shots you don't take, right? Don't be afraid to ask your customers for reviews. People probably aren't actively thinking about reviewing businesses unless they're asked.
Meet your customers where they are. If you have a client-facing office, put out flyers and ask your customers to take one home with them. Send out emails with a helpful link. Ask them personally after a successful meeting or phone call.
You're asking your customers to take time out of their day to put together a thoughtful, thorough account of their experience with your company, so don't forget to be polite!
You're right, Mr. Goldblum; it is scary. But I promise that it will be worth it. And, like most things, the more you ask, the easier and more natural it will feel.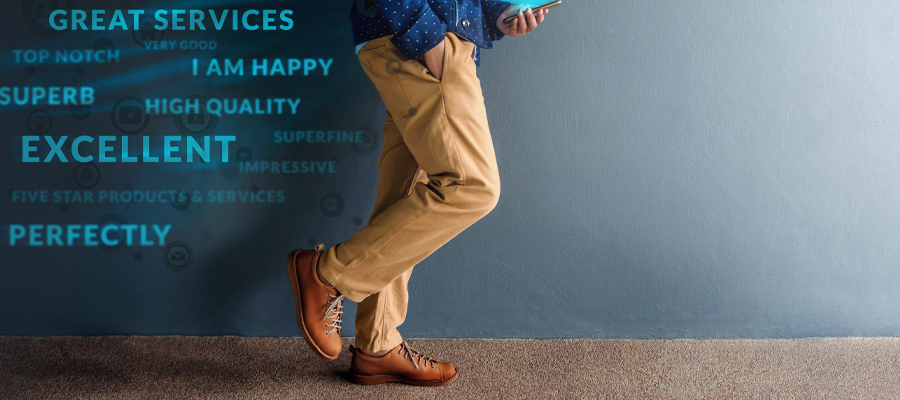 STEP 2: EDUCATE
As you likely know from personal experience, not understanding how to get to something on a website can be incredibly frustrating. Bad UI can wreck your whole site, and the same goes for leaving reviews. If customers can't figure out how to do it quickly, they probably won't. 
Consider making a page or blog post with instructions on how to leave a Google or Facebookreview that you can link to if clients have questions. If you're going the paper route, type those instructions right on the invitation to review. Make it as simple as possible for your customers.
STEP 3: SIMPLIFY
Simple is really best when you're asking your customers for a review. Bullet point instructions and hyperlinks will serve you well. A simple call to action like this one lets people know what they're doing when they click the link: "Have feedback? Leave us a review on Google."
Pop that link right in your email signature, and give people an easy, one-click solution for leaving you reviews (and here's how to get that direct link to your Google reviews).
Don't forget Step 1, though: ASK DIRECTLY. While you'll certainly get some attention from your email CTAs to review, directly asking people for reviews will yield many more results. Which leads me on to my next point.
STEP 4: PERSONALIZE
By now, you probably know that emails from a person have higher open rates than emails from a general company address. Make sure your emails are coming from you, not a noreply or vague company address.

Personalization works on the other end, too. No one likes a "Dear customer" opening, especially when you're asking them to do you a favor by reviewing your company. First names go a long way.
Taking a few minutes to craft a unique email can make all the difference, and your conversion rate should show it.
STEP 5: RESPOND
Responding to comments makes a huge difference; it shows that you truly care about your customer's experience. If a customer sees that a business regularly responds to feedback, they'll be a lot more inclined to share their own, since they know someone will actually read it.
In addition, reading reviews gives you insight into your customer's pain points and how you can improve your products and services.
If you have several locations or franchises, managing reviews can get exhausting. Luckily, there are some third-party tools out there like Whitespark that can help you manage all your reviews. 
Now you have the "secret" to getting great Google reviews – ask for them, make it simple for customers, and make sure people know you care about their reviews. It takes some of your time to personally reach out to people, but the returns you'll see through great online reviews will be worth the time investment.